by Maya Meinert
Daily Journal Staff Writer
F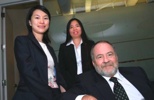 or law firms attempting to capitalize on emerging markets in China, opening outposts in that country makes sense. Latham & Watkins, Paul Hastings and Morrison & Foerster are a few of the many U.S. firms that have opened offices there to better serve their clients' interests.
And now, Chinese firm Alpha & Leader has done the same for its U.S. clients.
One of the first Chinese firms to establish an outpost in California, and possibly the first in Los Angeles, Alpha & Leader recently started doing business as Alpha & Leader U.S. out of its North American attorney Robert J. Allan's Malibu office.
Allan, 58, who is also a Canadian barrister and solicitor, has been working with Wesley W.S. Pan, Alpha & Leader's founding member and managing partner at the firm's headquarters in Guangzhou, China, since 2003 under the name USA China Law Group. As the practice grew and relationships were formed with U.S. law firms, Allan and Pan decided to bring USA China Law Group in line with the Alpha & Leader name.
"We're the bridge," Allan said. "We established the North American representative office for the same reason that a U.S. firm would open a representative office in Shanghai. It makes it easier to represent clients and makes us more accessible."
Allan said an office in the Los Angeles area also makes more sense than one in New York, for example, because of its proximity to Asia and to the immigration and trade hubs in L.A. Keeping the office in Malibu, where Allan lives, as opposed to moving it to a more central location, will work fine, according to Allan, because most of the work is done electronically.
Two other Chinese law firms, Shanghai-based Albright Law Firm and Beijing-based King & Wood, have established offices in California. Albright's office was in San Francisco until its closure early this year, and King & Wood maintains an office in San Jose.
Alpha & Leader has 60 attorneys firmwide and six in its Malibu office.
The firm assists its U.S. clients, which include Goldman Sachs, Citigroup, Deutsche Bank and Bank of America, in entering the China marketplace, mainly by the purchase and sale of nonperforming loans in China.
By acquiring nonperforming loans, a company buys the creditors' rights, which include the right to foreclose on that property. Because China restricts the amount of foreign currency coming into the county, buying real estate or equity in a company is much harder than buying a loan. Purchasing a loan makes rights more easily transferable from one party to another; therefore, money is transferred much more easily into and out of China.
Alpha & Leader started advising its clients in the nonperforming loan business in 2000, when Chinese government-owned banks that had loaned to other government-owned entities started to transfer these uncollected loans to asset management companies. The Chinese government needed to clean up its balance sheets to fulfill its World Trade Organization obligations, and transferring these loans shifted the risk to the asset management companies, which sell these loans below market value.
PricewaterhouseCoopers is one of the companies Alpha & Leader has assisted in the purchase of nonperforming loan portfolios, as well as aiding investors in Chinese companies.
Ted D.E. Osborn, a partner in PricewaterhouseCoopers' Hong Kong advisory division, described the advantages of a Chinese law firm having a U.S. office.
"Having your lawyer close to you is important, particularly in the heat of battle," Osborn said. "By setting up shop in the U.S., Alpha & Leader has brought its local market expertise closer to its U.S. client base."
John M. Gatti, a litigation partner in Greenberg Traurig's Los Angeles office, has worked with Allan for the last four years on Alpha & Leader client matters.
"Working with Alpha & Leader helps because they have the local knowledge that you'll need in dealing in China, whether it's with the government or in the non-performing loan area," Gatti said. "They perform the due diligence, make sure things are done correctly, make sure you don't have legal problems. They can steer clients in the right direction because they know the better properties."
But not everyone is convinced that establishing an outpost here will have a big impact on the way business is done between the United States and Asia.
"There are a lot of Chinese firms that have relationships with U.S. firms to help their U.S. clients accomplish things in China, so that's not so unusual," said Peter Zeughauser, an industry consultant with the Zeughauser Group who has helped U.S. law firms establish outposts in China.
Arthur M. Tsai, secretary of the Southern California Chinese Lawyers Association and partner with the Pasadena-based Castellan Law Group, agreed with Zeughauser's assessment.
"If this firm is coming here strong, creating a presence, marketing heavily, then that's a big deal," said Tsai, who practices business and commercial litigation. "But I guess it's easier for us in the U.S. to go to Asia and establish an office. It might be more difficult for a firm in China to be successful and have the resources to come here. In that sense, it's significant."
**********
© 2007 Daily Journal Corporation. All rights reserved.